About
METC
Launched by ASTRI in November 2022, the Microelectronics Technology Consortium (METC) aims to provide a networking and knowledge sharing platform for industry players from HK, Mainland China, in particular the GBA, and overseas in the Microelectronics and semiconductor field to explore collaboration and technology commercialisation opportunities.
Vision and Mission
Our main objective is to contribute to developing Hong Kong into an international innovation and technology hub through fostering the development of various technology ecosystems. We hope to leverage ecosystems to:
Reinforce Hong Kong's role as a "Super-connector" with respect to technology development and knowledge transfer​
Lead and strengthen cross-industry initiative for Hong Kong industry development with a global vision, intended to be a platform facilitating technology collaboration among industry, research institutes, universities, academia and government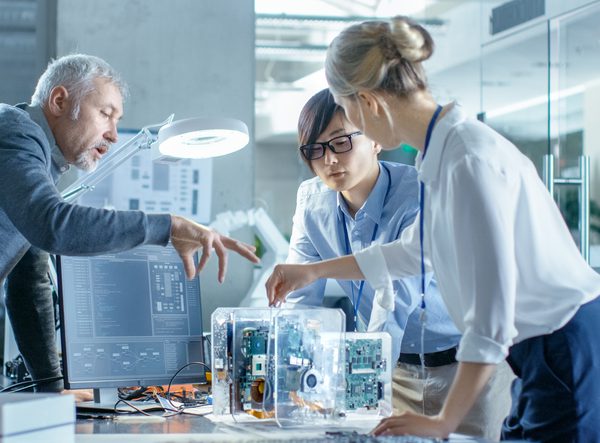 Enable members to engage with all levels of stakeholders for technology solutions as well as knowledge transfer
Key Events
A series of events and marketing activities will be organised including industry sharing, networking, seminars, workshops, platform connecting start-ups and investors, etc.
Members' Benefits and Fee Schedule
Membership is classified into different tiers to enjoy various benefits. We welcome corporate and individual member joining us as Diamond, Gold or General member. Platinum member would be engaged by invitation only.
Participation in the Microelectronics Ecosystem and Potential Project Development

Participate in core committee meetings

Receive first-hand information on relevant projects

Joint establishment of strategy & direction for semiconductor industry development

Priority to support and participate in relevant R&D projects & licensing rights thereof

CVs of candidates be shared among core committee members if their consent are sought

Referral of talents to join core committee members' company or participate in projects

Consultative Services (first 10 hours free, 20% off for next 10 hours)

Patent information sharing & analysis

Market & product trend analysis

Technical feasibility studies (modelling & simulation)

Be part of the GBA Development & Investor Connection

Participate in core committee meetings for business & technical exchange

Getting information on cross-border project opportunity & GBA government funding application

Venture Capital (VC) & start-up will be invited to our regular activities

Invitation to participate in Industry Conference, Symposium & Forum

Participate in key events co-organised with leading associations, companies and multipliers

Free seat for different membership tiers, subject to availability

Industry headlines, updates of key companies

Market forecast, updates of key technologies

An array of marketing activities in the pipeline, including seminar, webinar, workshop, networking & demonstration day where members can participate as speakers and/or audiences
1-Year Membership
3-Year Membership